Little Bulb's Orpheus
Saturday April 27th 2013
Battersea Arts Centre
So I finally got to see what Miriam's been working on for the last year or so... Some of her old UKC drama student friends have been doing very well since they created the Little Bulb Theatre company, and they recruited her for their latest show (to sing, play violin and act) which was created as part of an extenced residency at BAC. It's a reworking of the myth of Orpheus and Euridyce (a.k.a. Orpheus in the Underworld), set in 1930s Paris with an Orpheus character inspired by Django Reinhardt. The whole thing is done in a kind of Parisian music hall/cabaret/silent film mode, a lot of music, a lot of humour, wildly inventive and joyful. Miriam's one of a trio of women (violin, accordion, double bass) who act as a kind of Greek chorus (crossed with the Andrews Sisters) as well as Fates, Furies, and other roles.
Django-Orpheus is played by Dominic Conway, who I met in a meadow one midsummer a few years ago in the form of Puck...now he's Orpheus! He's been practicing a lot, clearly, has become a phenomenal guitarist. Like the rest of the cast (apart from cabaret hostess/chanteuse/Euridicye) he doesn't speak an entire word throughout, but communicates volumes nonverbally.
The Grand Hall at BAC is an old Victorian theatre that includes an electro-pneumatic pipe organ (unique, created by Robert Hope-Jones) which was restored for the occasion and used to great effect in the second half, when Orpheus descends into the Underworld to petition Hades. The sub-bass on that instrument is awe inspiring, and it was played to great effect by company pianist Charles. The remaining two members of the cast played clarinet (that was company director Alex) and drums, completing a fantastic band. The music included gypsy jazz (naturally), opera (some Monteverdi), chanson, really intense trio harmony singing, organ fugues and otherwise unclassifiable original compositions. I'm no theatre critic, but just looking at it as a musical performance with extensive theatrical elements, it was a hell of a gig! And the playfulness infusing it made me think of The Incredible String Band, had they attempted to perform a Greek myth (if you've seen Be Glad For the Song Has No Ending or happened to see their experimental opera U, you'll know what I mean.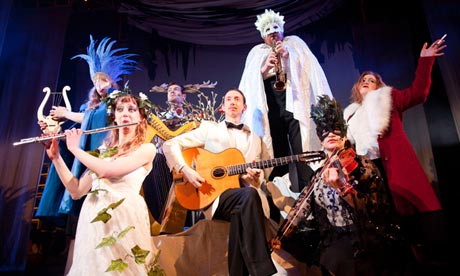 The audience seemed to love every moment of it, and the theatre critics are impressed too — see these reviews in The Guardian, Telegraph and Observer.
Having already done two shows that day, after a short break the band reappeared in the bar (also done up in 30's Parisian style) to play an hour-long gig! Such amazing energy they've got. I had to run for the last train after three numbers so unfortunately missed Miriam duetting on "All of Me" with her mum (professional jazz singer Rachel Gould). That was the first time they'd ever sung together like this (accompanied by just Dom on guitar). Alex, having stepped into the audience, apparently claimed that it was like witnessing the end of a Hollywood film!